Singapore's yacht chartering scene got a lot more exciting with the arrival of 'Star of the Sea', the largest and most luxurious superyacht available for charter in the city-state. Built in 2012 and recently refurbished, the 128-foot superyacht is a marvel of engineering and design, featuring four levels of pure luxury and an array of charter-focused amenities that will make your trip unforgettable.
With a top speed of 26 knots, 'Star of the Sea' is powered by twin MTU engines by Rolls Royce, making it perfect for fast and comfortable cruising around Singapore's stunning coastline or venturing further to discover the pristine waters of Tioman or the exotic islands of the Anambas. Onboard, you'll find everything you need for a memorable trip, from a massive flybridge that can hold dozens of people simultaneously to an expansive entertainment level for movies or karaoke sessions.
The superyacht boasts six plush bedrooms that can accommodate up to 12 guests, making it perfect for families or groups of friends. A complete kitchen is also available, perfect for a private chef to prepare delicious meals tailored to your preferences. The large dining area can comfortably seat 16 persons, allowing you to enjoy gourmet dining with breathtaking sea views.
When berthed, 'Star of the Sea' can accommodate up to 150 persons, making it ideal for dockside parties and corporate events. But it's out at sea where the superyacht truly shines, with space for up to 50 guests to enjoy island-hopping, swimming, and snorkelling in Singapore's crystal-clear waters. Water toys like kayaks and stand-up paddle boards are also available for more action-packed activities.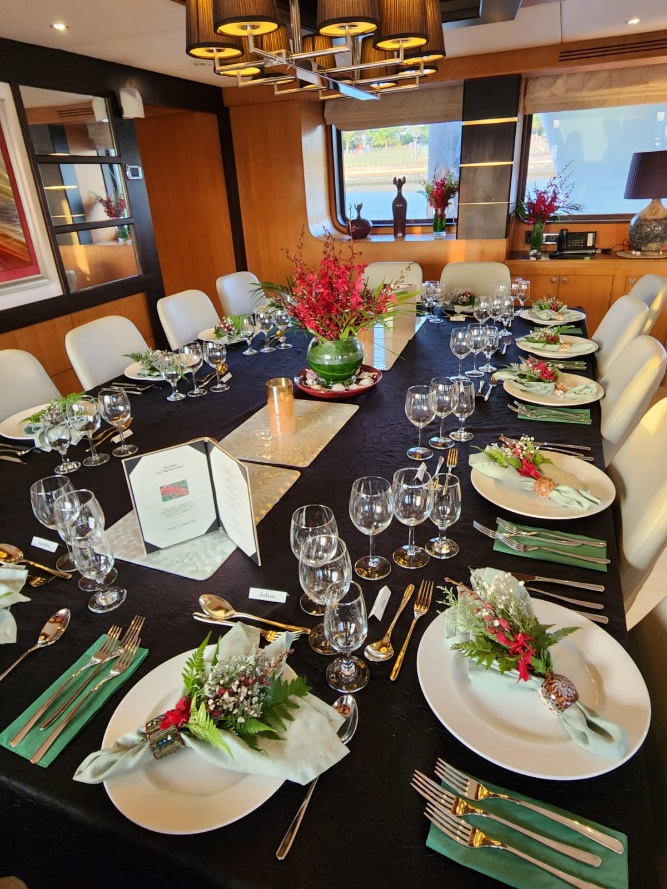 The 'Star of the Sea' is a game-changer in the yacht-chartering scene in Singapore. The addition of this amazing superyacht to our existing fleet of yachts is a response to our consumers' growing demand for an ever-increasing affluent lifestyle and their pursuit of a luxurious lifestyle."

Evangeline Wong, founder of SOTS Superyacht, Valencia Yachts, and Maximum Yachts leaders in the luxury yacht chartering industry in Singapore
But that's not all. As part of its Corporate Social Responsibility (CSR) programme, 'Star of the Sea' has partnered with the International SeaKeepers Society, Asia, to contribute a portion of its revenue towards conserving marine life, providing educational resources, and oceanographic research. By chartering the 'Star of the Sea', you're treating yourself to an unforgettable luxury experience and contributing to the future well-being of the oceans.
In conclusion, 'Star of the Sea' is the perfect yacht for those looking to experience Singapore's ultimate luxury yachting experience. With its exceptional design, elegant interiors, and unparalleled amenities, this superyacht will surely leave you with unforgettable memories.
For more information on the 'Star of the Sea', please visit www.staroftheseasuperyacht.com or contact SOTS Superyacht Pte Ltd at +65 9768 8850 or email info@staroftheseasuperyacht.com.