The founder of Herbal Pharm, a Made With Passion Singapore brand established in 2004, embarked on a lifelong journey to keep Singaporeans healthy for as long as possible, especially with the increasingly greying population in Singapore. The company is dedicated to supplementing the Singaporean lifestyle with a range of premium nutraceutical products that help individuals live healthier and better lives.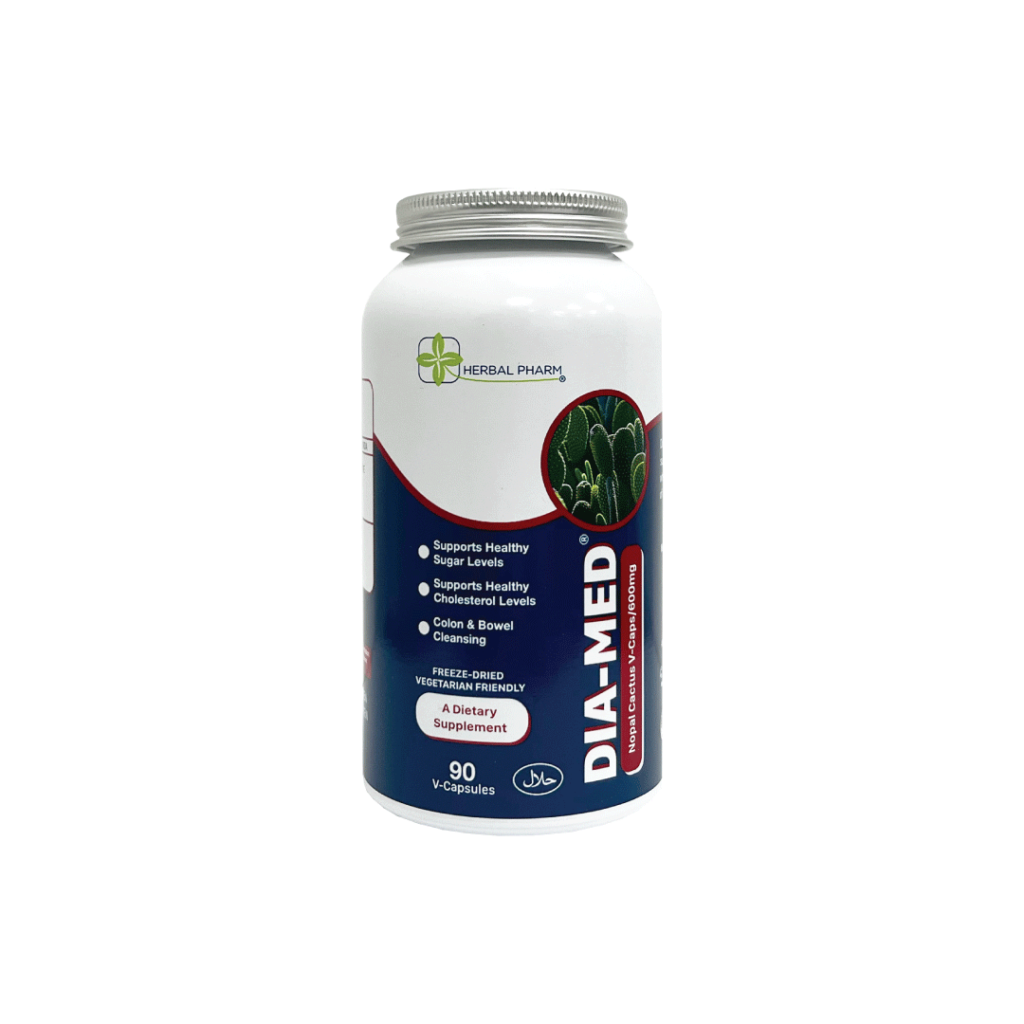 One of the company's top sellers is Dia-Med Nopal Cactus, a vegetarian capsule that helps maintain healthy blood sugar levels. The supplement was created in response to the demand from Singaporean customers and based on scientific research on the efficacy of Nopal Cactus (prickly pear).
Herbal Pharm's i360, an eye supplement, is also famous among Singaporeans who spend long hours in front of computer screens and in air-conditioned offices, leading to dry eye symptoms. The supplement helps alleviate and prevent long-term eye problems.
NutraJoint Gold Flex is a popular supplement for those with joint pains that enables individuals to exercise regularly and keep diabetes and other health issues at bay. Herbal Pharm also introduced Traditional Aleppo Soap 30% Laurel Oil bar soap and shower gel for those with sensitive skin conditions such as eczema, which is prevalent among Singaporeans due to the hot and humid weather.
To support a healthier bladder system, Herbal Pharm introduced the Bladder Support Formula, which is popular among late-night and long-hour workers prone to urinary incontinence, bladder control issues, or urinary tract infections.
Herbal Pharm's tagline, "For a Better You," reflects the company's commitment to better distribution channels, communications, quality, and customer experiences. The company serves the health needs of 40,000 Singaporeans annually and has more than 25 trained customer service staff who focus on a personal touch.
Herbal Pharm is dedicated to creating a better world, has given back through Mediacorp's 2021 Care and Share Programme, and is a partner of WWF-Singapore's Plastic Action (PACT). The company has also changed its plastic packaging to sustainable aluminium cans and strongly encourages the collection and recycling of its supplement bottles.
Kanan Packrisamy, Herbal Pharm's Chief Executive Officer, states that the company is committed to staying focused on serving the needs of Singaporeans to create a better Singapore. The company is proud of its heritage as a Singapore brand and looks forward to growing old, staying healthy, and getting better every year with fellow Singaporeans.
Herbal Pharm products can be consumed by Muslim readers, for Halal-certified products will carry the relevant Halal-certified symbol from the various certifying bodies. These can be from countries such as the US, Korea, Turkey, Malaysia, Indonesia, and New Zealand. Please check the following table for the breakdown of labels frequently used on some products and the explanations.
| | |
| --- | --- |
| | Halal certified: Halal is an Arabic word that means permissible. A Halal-certified product means that the product is permissible or acceptable under Islamic law. Offering Halal-certified products allows Muslim consumers to be confident that their products align with their culture and beliefs. |
| | Good manufacturing practices (GMP) are required to conform to the guidelines recommended by agencies that control the authorization and licensing of the manufacture and sale of our products. These guidelines provide requirements that a manufacturer must meet to assure that their products are consistently high in quality, from batch to batch, for their intended use. |
| | A vegan product does not contain any animal ingredients or animal-derived ingredients. This includes, but is not limited to, honey, beeswax, lanolin, collagen, albumen, carmine, cholesterol, gelatin, and many others. |
| | MGO stands for methylglyoxal, the naturally occurring compound that makes mānuka honey unique. An MGO rating is a standardised measure of methylglyoxal content and is an indicator of quality. Herbal Pharm's Mānuka Honey range contains products from MGO 50+ up to MGO 800+. The higher the MGO rating, the higher the concentration of methylglyoxal in the honey. |
| | Raw honey comes straight from the honeycomb. The beekeeper usually filters the honey to remove tiny bits of debris but does not pasteurize the honey. Raw honey is still safe to eat. Due to fewer processing methods, raw honey retains more antioxidants than commercial honey. |
| | This product is free from palm oil. Palm oil has been and continues to be a significant driver of deforestation of some of the world's most biodiverse forests, destroying the habitat of endangered species like the Orangutan, pygmy elephant and Sumatran rhino. |
| | Organic foods are grown and processed according to guidelines addressing, among many factors, soil quality, animal raising practices, pest and weed control, and use of additives. Organic producers rely on natural substances and physical, mechanical, or biologically based farming methods to the fullest extent possible. |
| | All-Natural products: represented by a wide array of consumer goods, including natural and organic foods, dietary supplements, health and beauty products, etc. Generally, natural products are considered those formulated without artificial ingredients and that are minimally processed. |
| | Eco-friendly: products that contribute to green living or practices that help conserve resources like water and energy. Eco-friendly products also prevent contributions to air, water and land pollution. |
| | This product does not contain gluten and is safe to consume by customers who have celiac disease. |
| | The product is cruelty-free and was not tested on animals during its production. |
| | EU organic logo: this product fully complies with the conditions and regulations for the organic farming sector established by the European Union and indicated that at least 95% of the agricultural ingredients are organic. |
For more information on Herbal Pharm, visit www.herbalpharm.com.sg.
HERBAL PHARM SUPPLEMENTS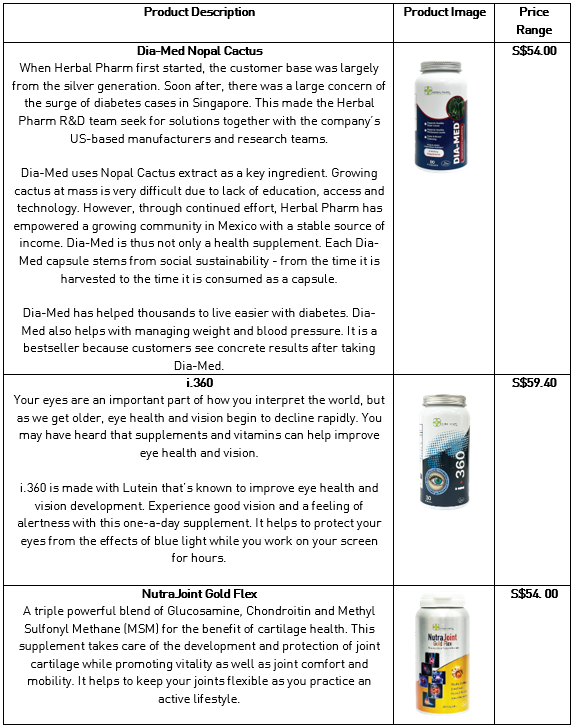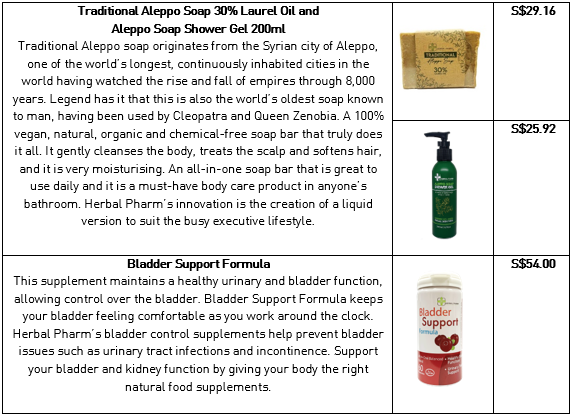 APPENDIX B
HERBAL PHARM LOCATIONS
Corporate OfficeHerbalPharm Pte Ltd1008 Toa Payoh North #04-09Singapore 318996 Operation Hours
Mon – Fri: 9AM – 5.30PM
Retail Outlet8 Race Course Lane,
Singapore 218735

Operation Hours
Mon – Fri: 8.30AM – 5.30PM
Sat: 9AM – 1PM
Sun/Public Holidays: Closed
Showroom1008 Toa Payoh North #01-18Singapore 318996 Operation HoursMon – Fri: 8.30AM – 5.30PMSat: 9AM – 1PMSun/Public Holidays: Closed